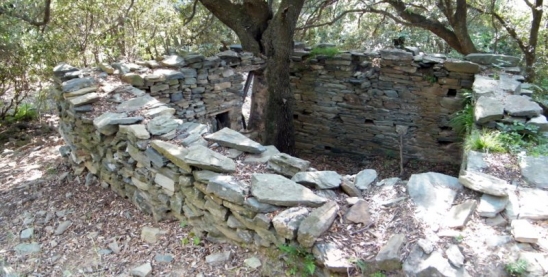 There are lots of abandoned villages in Corsica, which are like witnesses of other regions growth, and also witnesses of the countryside emigration. It is believed that Mata has been abandonned in the XVIIIth century.
First of all, we go to Campu, quite close from Luri in the Cap Corse. There is a memorial for Andre Cervoni, so we can remember how inspiring he was for the writer Joseph Conrad. 
The path goes up just beside it. It is quite pleasant, not so difficult, and slides underneath a tunnel made of vegetation, which sometimes opens to the sea. 
We soon reach an abandoned village. Houses made of stones are still standing there, despites the years coming and going. 
At the entrance of it, we can see remains of a squared tower, with his fortification and loopholes. It might have been used for defensive purposes. 
The promenade goes on to La Punta di u Castellucciu, where we can have a lovely view on Santa Severa marine.
Now if we go back on our steps, we discover the chapel San Salvatore, which was built on an ancient sanctuary from the Xth century. 
Something surprising was that the bell tower is 80 meters away from the chapel. 
It is a very pleasant and peaceful walk.