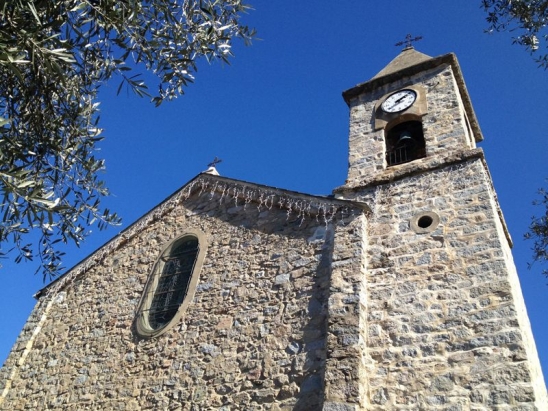 These paths were previously used by villages inhabitants, for instance sellers and agricultors. They link villages to other villages, and go through places that are nowadays not so crowded. 
Following this patrimonial path between Peri and Carbuccia, the path leads towards Ucciani, going through Carbuccia. We can also go to this path from Carbuccia's station, following the yellow signs. 
The promenade takes us in the heart of the village and allows us to discover all the things to do in this village. We keep on going in the heart of the fields, where we get to know all the brave animals which are getting closer to the fences…. 
We go through the woods to get to Ucciani road, with a nice path surrounded by little walls made of stones. 
We stop there, but … The path keeps on towards Ucciani, and then Tavera… 
We reach a little chapel on the way, la Capedda di Sant'Anna, as well another explanation sign, which is about the places below : 
Ancient church : 
The Church from Carbuccia, "San Silvestru", has been abandonned in the XIth century. The first shrine for San Ghjacumu has been build at the church's place, for the first departures from Corsica to Compostelle. It is the place where a roman church has been first built, a simple rectangle shape with an half circle abside, that becomes a pilgrimmage for the whole valley… On a real «Saint-Jacques' corsican path ».
A shrine being rebuilt multiple times :
Step by step, this church has been made bigger , then fully rebuilt in the XVIIth century on a rectangular base, with a squared heart, and chapels on the side. It was about that time that they built the baroc shrine. It is also about that time that the arca is built, arched grave, that will be used as a collective grave for the Carbuccia's inhabitants.
A remembrance chapel :
In the XIXth century, this church is falling apart and it was too far from the inhabitants. They decided to built the current big church in the village centre, and to destroy the ancient church to use her location to build a cemetary. However, the choir and its shrine have been preserved and turned into a chapel. The title of Saint Jacques has been transfered, and the current chapel has been named Sant'Anna. It is being celebrated every July 26th.